Display racks for retail stores offer versatility for your space, as well as many other benefits:
Easily adaptable and changeable

Tailor them in size, number, placement, or branding

Can be reconfigured and rebranded according to season, promotion or product
What are display racks for retail stores?
A display rack is a type of retail display that allows stores to showcase products and branding. They can be temporary or permanent and can be purchased off-the-shelf or customised to suit your needs.
The different types of display racks include:
Display rack ideas that boost sales
There are many options when it comes to choosing merchandise display racks for your retail space. These ideas and examples will help you maximise your retail space and create an attention-grabbing display.
1. Display racks for different-sized items
Racks for shop display can themselves come in many different shapes and sizes, and they can also hold items of different sizes, too. 
This example that KSF Global customised for Games Workshop can display a variety of products in different ways, including hooks, shelves and literature holders. That means they were able to put complementary items together to boost cross-sales.
2. Wooden display shelving with hooks
A wooden display rack is a sturdy, affordable option that looks good and holds a natural appeal. As with metal racks, they can be customised to hold various types of products and provide an elegant way to display items.
3. Wall racks with hooks
Displaying hanging products is made easy with a wall rack. The hooks are manoeuvrable, so you can move them into a position that works best for your store. The slim design of this wall display rack for a retail store means you can maximise your floor space while showcasing every item.
---
---
4. Gondola display rack with wheels
Retail display shelves allow you to organise your products neatly. This example, with its repositionable shelves and end hooks, is another great way to display multiple types of items.
It also offers good flexibility. Retail shelving on wheels means you can move your whole display rack around your store to get the best layout and help your customers navigate through their purchase journey.
5. Display racks for large items
Larger items clearly need more space. In this Hozelock branded display rack by KSF Global, we ensured that each product could be seen clearly, with wide shelves and plenty of room between each shelf.
Space for each product is an important consideration for a merchandise display rack since you need to showcase choices without overcrowding.
6. Metal display racks for shoes
Display racks can be made out of different materials, such as wood, plastic and, as in this example, metal. Alternatively, you can combine different materials. 
This metal shoe display rack is lightweight and easy to manoeuvre, meaning you can switch up your floor space quickly and easily. 
7. Countertop racks
Countertop racks are a good way of clearly displaying smaller, affordable items. They work especially well at checkout when the customer is already at the point of purchase. 
With easy and convenient access, ensure your countertop racks are eye-catching and always full for that extra upsell.
8. Pipe and panel displays
Pipe and panel displays work particularly well for clothing stores. Providing versatility that allows you to hang different types and sizes of garments, you can create a unique display that fits your space.
You can also include shelves, as in this example of a pipe display, and accessorise with different types of faceout bars, hanging bars and racks.
9. Display racks with rails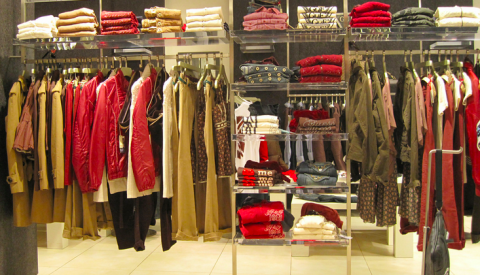 Display racks with rails
are also particularly useful for clothing or items that look most presentable and eye-catching when hung. They also allow you to place more products on the shop floor, and have a range of sizes available at the same time.
10. Free-standing display racks
Utilising free-standing racks for shop displays gives you the opportunity to create the optimum customer flow through your store.
Bespoke free-standing displays, such as in this example, allow you to get creative and draw customers in. Hitting all the right brand notes while doing so will reinforce your brand and leave customers with a memorable in-store experience.
11. Retail shelving displays
Products can be clearly organised and look neat on a shelving display. Position your core items at eye level so that's what the customer sees first, and draw them along your shelves in a logical journey.
If you have fixed retail shelving (as opposed to gondola shelves which can be repositioned), you can still have a degree of flexibility if you can switch shelves in and out.
12. Wire mesh display racks
Wire mesh can be used for many different types of display stands. From wall panels, as in this example, to free-standing displays, shelving units, bins and display racks, wire mesh display racks offer many benefits. They are:
Affordable

Lightweight

Versatile

Durable

Customisable
13. Bespoke racks and rails for shop displays
Merchandise display racks need not be boring. Investing a budget into a bespoke display reaps revenue benefits further down the line, and creates eye-catching displays customers will talk about.
14. Corner racks
Make the most of your floor space by maximising dead corner areas with corner racks. Often unexpected and therefore eye-catching, corner racks give you extra room to showcase your products and ensure you're getting the most out of your stores.
15. Modular display racks
Modular racks offer the flexibility of being fully configurable (and re-configurable) according to your needs. You can switch them up according to season, promotion or campaign, adding new graphics and creating an entirely new look on a minimal budget.

Enhance Your Display Racks With KSF Global
As a retail design agency, we have plenty of experience creating and designing a wide range of display rack solutions and are a leading store fixtures manufacturer.
To find out how we can help you make a roaring success of your retail stores with effective merchandise display racks, get in touch today.